NEW YORK, May 10, 2016 /PRNewswire/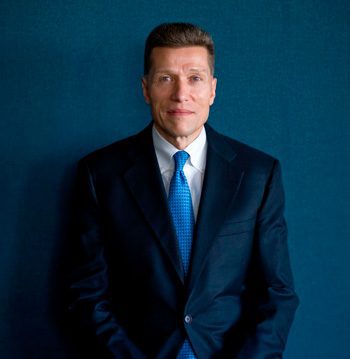 Euteneuer will work alongside Executive Chairman and co-CEO Declan Ganley as the company works to change the way wireless networks are built and accessed by creating the country's first wholesale-only wireless provider. To help fund the rollout, Rivada, along with a consortium of industry leaders, is bidding to build out FirstNet's nationwide public-safety broadband network. In the case of an emergency, Rivada's core technology, Dynamic Spectrum Arbitrage Tiered Priority Access (DSATPA), would ensure public safety agencies maintain priority over their dedicated broadband networks, but otherwise could lease out the unused capacity to generate revenue when available.
The company's patented Open Access Wireless Market allows for 4G mobile network capacity to be bought and sold in real time and in response to market demand, which results in more efficient use of bandwidth as demand for it continues to grow 50 percent every year. By allowing businesses to access wholesale bandwidth through both long-term agreements and open market transactions, Rivada is enabling the advancement of IoT and other innovations while creating new opportunities for institutional investors.
Euteneuer along with Ganley will communicate the company's vision for an open wireless marketplace while forging key strategic partnerships. Over the course of his nearly 25-year career in telecom and media, Euteneuer has held CFO and EVP positions at Sprint, Qwest Communications (now CenturyLink), XM Satellite Radio (now Sirius XM Satellite Radio), and Comcast. Ganley and Euteneuer first worked together at Broadnet, a fixed-wireless venture that rolled out networks across 10 countries in Europe in the late 1990s and early 2000s.
"We're delighted to have a seasoned wireless, telecom and media veteran such as Joe join our executive team," said Declan Ganley, Co-CEO at Rivada Networks. "Joe's financial savvy and visionary leadership will help us demonstrate how wireless bandwidth can be bought and sold to enable new technologies and meet consumer's growing bandwidth needs."
"It's an exciting time to join Declan and the Rivada team as we deploy the first wholesale-only network in the U.S. using this disruptive technology," said Euteneuer. "By taking otherwise wasted bandwidth and freeing it up for use, Rivada is unlocking the potential for all kinds of new innovations that can serve humanity and better our world."